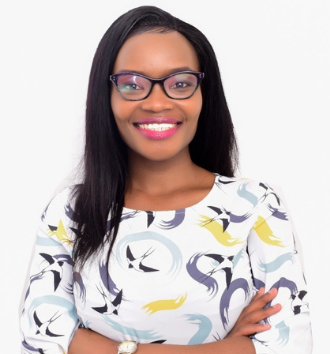 Hilda Moraa is an award-winning innovator and author. She has more than 10 years of experience in Fintech, Regulation, developing innovations, entrepreneurship, and working with multinationals such as Coca-Cola to develop mobility innovations for Africa.
She previously founded WezaTele, a Fintech startup in Kenya that was acquired in 2015. She is currently the Founder & CEO of Pezesha, a digital financial infrastructure enabling SMEs and institutions in Africa. She also led Pezesha to be the first company to exit from CMA regulatory sandbox and get approval.
Hilda holds a Business Information Technology Degree from Strathmore University. In 2015 she was also featured as one of the top 40 under 40 women and Quartz Africa as the top 30 innovators in Africa in 2018. She has continued to champion the local tech, innovation & Entrepreneurship scene in Kenya by supporting and mentoring other young techpreneurs through sharing her lessons, entrepreneurial knowledge, and experiences in inspiring ways such as through her first book that was published when she was only 26 years old- "A Kenyan Startup Journey- 10 Key Lessons I learned"(Which can be purchased from this link here (https://hildamorara.com/index.php/buy-my-book/). She was also a keynote speaker at the Global Entrepreneurship Summit 2015. And in 2019, she was among the few selected to be part of the Obama Leaders Program. To learn more about her journey and lessons visit her personal website at https://hildamorara.com/
Hilda is also celebrated across Africa as one of the 50, Africa's most promising innovators by Global Shakers because of the impactful work she leads at Pezesha #Africaday2020. See the full list here https://lnkd.in/etpidut
In 2020, She was also appointed to the COVID-19 ICT & Innovations Advisory Committee for Kenya at large. An honor to serve with the other appointed great leaders who are at the frontline of driving change in tech and innovation in Kenya and across Africa.